I was so excited to attend the WPPI (Wedding and Portrait Photographers International) Convention. First it is a week  full of sessions taught by the top of the industry.  A chance to learn from the best from across the country.  It was also a chance to see one of my best friends who is a great photographer in Denver.  Oh, yeah….and it was in Vegas.  We surrounded by excess, largess, noise and fun.  Just deciding where to eat presented us with more options than we cared to entertain!
One night we went to  a Joel Robuchon restaurant.  Now, to be honest, I am not the most adventurous eater, I don't even eat seafood.   At first the menu was daunting.  Beef cheek, for example, is not something I was going to order.   I shared my timidness with our server who graciously did not laugh in my face.  With help I decided what I would have.  My more adventurous companion Eliza ordered the tasting menu.
In what turned out to be an unexpected treat, we were seated at the bar where we had a direct view into the open kitchen.  We spent the majority of the evening watching the chefs as they meticulously assembled each dish.  We ooo-ed and awed as we watched  one salad take almost 10 minutes to prepare… It involved tweezers.  Each piece was placed exactly where it should be. They would step back and examine the dish, then adjust, replace, add, delete.  The result was that each and every dish was beautiful, artistic.  In fact, we were in the majority as we (dorkily) photographed each plate placed before us.  You could not help but be struck by how lovely each dish was.  Below you will see my onion tart with asparagus, bacon and a quail egg.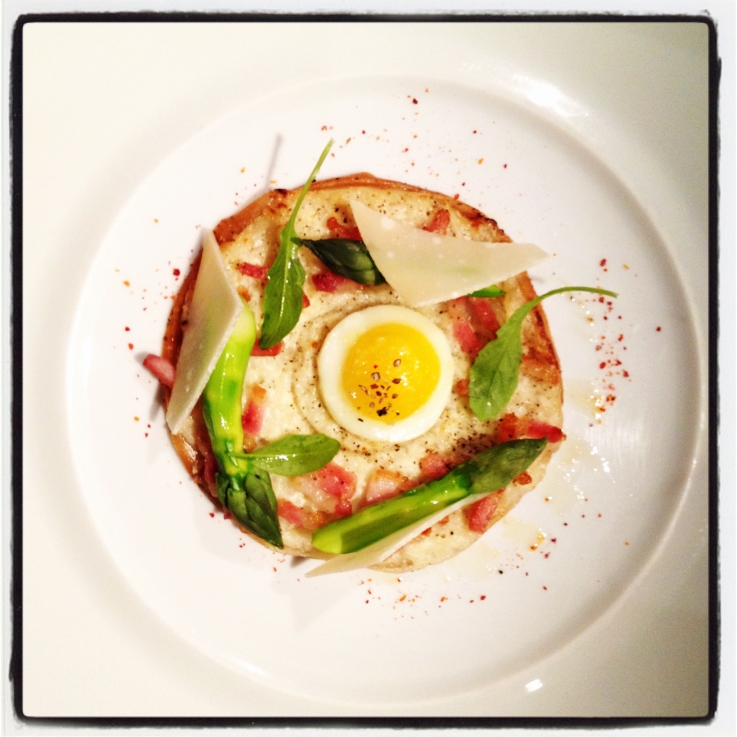 There are so many creative people in this world who make things that are beautiful in all sorts of ways.  I totally enjoyed watching the creative process happen in that kitchen.
In a town of over-the-top it was these small,  beautiful, one of a kind creations that struck me the most.
{Book your custom family photography session today.  Capture those beautiful little things that are special to you}